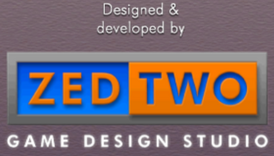 Formed in 1996 by John and Ste Pickford (who originally formed Zippo Games in 1988, and also worked with Nintendo and Rare during the mid 90's). Originally, Zed Two started up in Ste's house, with no funding at all, but soon boomed into a major development house thanks to the puzzle game, Wetrix.
Zed Two Game Design Studio is an independent video game design, development and R&D studio based in Manchester, England. We specialise in creating high quality, original games for any platform."
In December 2002, Zed Two was acquired by Warthogof UK and no longer existed as an independent company.
In 2005, the Pickfords went on to form a new company, Zee-3 Limited, an online distributor and publisher of digital media.
The name of the company (Zed Two) stands for the second generation of the original company formed by John and Ste Pickford (Zippo Games). The word 'Zed' is spelt this way, so that America would not call them 'Zee Two' (if it were just a Z).